How Talon® Ant Kill Gel Works
As a non-repellent insecticide the gel is highly attractive to ants so the workers ingest the product as a food source for the brood and queen. Furthermore, Talon® Ant Kill Gel uses a very low level of active ingredient which means ants are not controlled immediately but survive long enough to transfer the active ingredient back to the nest thereby eliminating the colony. Data show that full colonies can be controlled within days with the unique transfer capabilities of Talon® Ant Kill Gel.
Using Talon® Ant Kill Gel
Ants often nest under paving, foundations or in wall cavities making access and eradication difficult. By placing Talon® Ant Kill Gel in areas of high ant traffic you can ensure the worker ants feed on the bait and return it to the nest, controlling the queen and the colony.
Talon® Ant Kill Gel is a ready-to-use bait and should not be diluted or mixed with any other product or solvent. For best results, remove other sources of food and place the bait where it won't be disturbed or contaminated by cleaning or work activities.
Talon® Ant Kill Gel is easy-to-use, simply place a minimum of 1-3 spots per m2 (approximately 5mm in size) around ant trails, nests or wherever ants are found.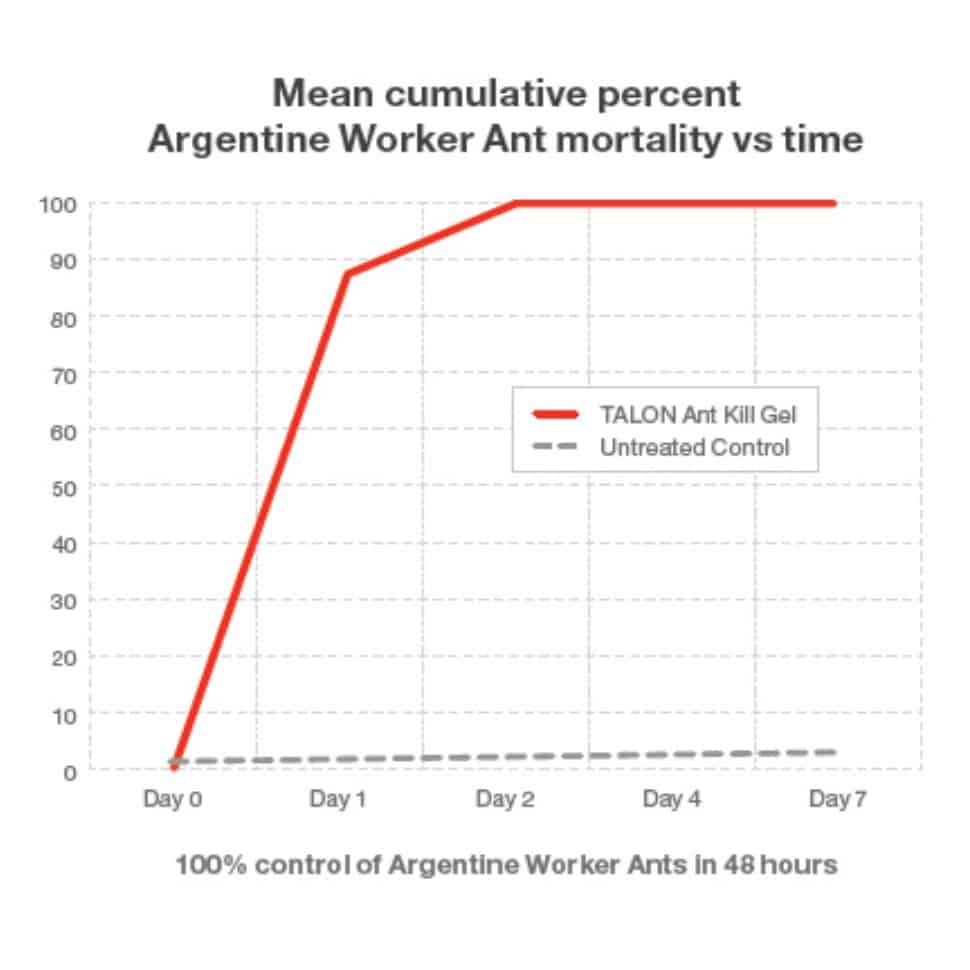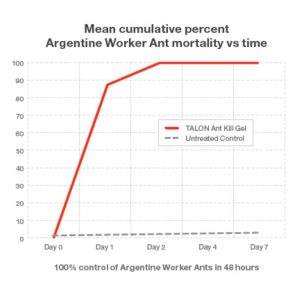 Product Profile
Total colony control can be achieved within days
Ant activity reduced within 48 hours
Clear, non-staining, odourless gel
Palatable for at least 14 days
Effective on a broad spectrum of ant species
Easy-to-use
Indoor Usage of Product
Place Talon® Ant Kill Gel in the kitchen where ants are trailing, around window sills and where ants enter the property.
Bathroom are another key foraging place for ants. Ants may travel into a building along electricity cables, gas and water piping and if you are able to locate ants at these entry points apply Talon® Ant Kill Gel.
Outdoor Usage of Product
Apply where ants are an obvious problem, around pets and other animal feeding areas. Talon® Ant Kill Gel can be applied around paving and decking and in gardens where ant trails are identified. Inject spots into cracks and crevices away from direct sunlight.
Note: Ants will feed on the bait as long as it is moist so if the bait dries out then reapply bait. Additional bait placements may be required if initial placements are consumed and ant activity remains high. Talon® Ant Kill Gel with remain attractive for at least 14 days so you should re-apply within 14 days to get the best results.
You can use a residual insecticide (e.g. Demand®) to protect the perimeter of your home for an integrated approach. This will reduce the risk of re-infection from neighbouring ant colonies and control a broad range of other pests such as cockroaches and spiders.