All Your Needs in One Product
The BG-Pro is a new modular trap for professionals and is ideal to collect all types of mosquitoes. It was developed to offer the functions of the most widely used monitoring traps in one product while providing Biogents patented technology, production quality, and design expertise:
higher quality parts
less energy consumption
overall better performance
comparable price
Different styles such as EVS-style, CDC-style, or Sentinel-style can be easily changed into each other.  Furthermore, the modularity enables you to be flexible in your monitoring programs and optimize your BG-Pro to your local and temporal monitoring needs. You have several options and the BG-Pro even offers room for your creativity.
Product Features
1st line of defence against Adult Mosquito Management NOT larvae only
More than just a monitoring device (All round 24/7 mosquito management)
Patented counter flow principle
Patented lure targeted specifically to increase catch rate of Aedes and Anopheles (mimics the human being and achieves superior capture rates)
With CO2 option to further enhance catch
16 years of academic research and over 300 publications that documents the exceptional catch rate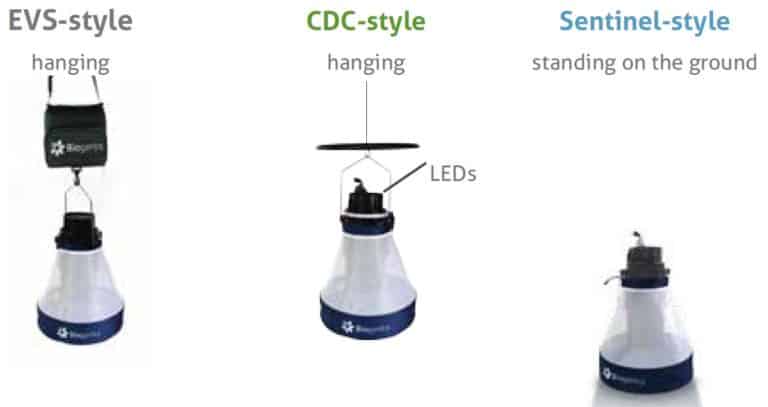 Easy and Flexible to Use
Multiple designs in one product

EVS-style
CDC-style
Sentinel-style
Easy to change into each other

Perfect for all habitats and mosquito species
Hanging or standing choice
Multiple power options (battery, mains power supply, power bank)
Carry bag that is a dry ice container
Designed for use with Biogents attractants and CO2
Automatic shutter ensures catch integrity in every situation
Catch bag above the fan reduces mosquito damage
Low power consumption for longer battery life. Fan can run on 5, 6, or 12V
Durable materials and design for long life
Biogents Attractants
Improve the traps' performance with Biogents attractants, the patented human scent mimics, to increase catch rates for Aedes albopictus and Aedes aegypti:
BG-Lure : 5-month lure
BG-Sweetscent: 2-month lure
When the Biogents attractants are used in conjunction with CO2, the synergistic effect can multiple the catch rates.