IGEBA U 5 M is a high quality ULV cold fog generator in compact design. The ULV method permits minimum application rate/area (about 0.5l to 1.0l per ha.) to achieve effective and economic space treatments, i.e. vector control etc.. State of the art technology meets a modular system to cover various fields of application.
Droplet spectrum VMD
– pure water < 25 µ
– oil (diesel) < 15 µ
Benefits
– Adjustable spray nozzle
– Low noise level ideal for treatments in residential areas, resorts etc.
– Vehicle mountable, i.e. ATVs, golf carts, pick-ups etc.
– More than 2 h working capacity without fuel refilling
– Easy cleaning and low maintenance
– Compact design: frame completely made of stainless steel®
– In vector control up to 40 ha. without refilling
– Quick coupling system for fast change of 20 l solution tank (PE-HD)
– Operating pressure control by built-in manometer
– 2,6 KW (3,5 HP) Briggs & Stratton 4-stroke engine

Optional transport device
Features:
– Fast change of the application position
– Comfortable and ergonomic handling by one operator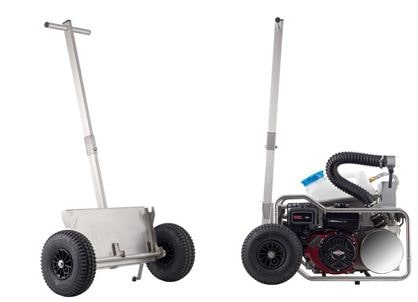 Optional remote control (5 m)
Features:
– Fogging ON / OFF
– Motor OFF
– Control your application from the driver cabine (External 12 V DC power supply necessary)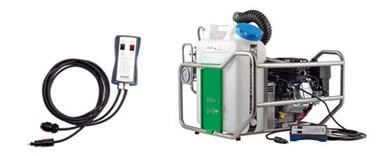 Optional hose extension (5 m)
Features:
– Amplify your application area
– Optional acid-proof solution line, especially for aggressive disinfectants.